My '69, "Stolen Thunder"
( Click on the thumbs to enlarge )

This is the car the next day after I brought it home. It had slapped a deer,and owner just wanted to get rid of it,so I obliged him. Got it for a grand ,plus he threw in a bunch of extra parts,and a spare pair of 15 x 8 slots.


'72 400,bored .030 over,850 Holley DP, MoPar camshaft (too lumpy,never got the specs) ,a 727 beefed w/shift kit and heavy duty clutches,and 4.57 gears out the back. Despite what the ad said, did not have a converter,needs one badly. Christmas,dear wife?


Good friend etched a pair of these on the wing windows(don't grit your teeth,have extras!)


My pride and joy, still waiting for paint, roll cage, torque converter, fiberglass hood, and all the power toys! Soon ,I hope!

---
And here's the Dart...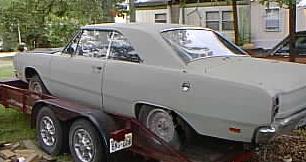 '69 Dart Swinger 340 4-speed (minus the 340) Clean body, and all the glass, but still a lot of work ahead.That's the fun part ! The hood needs a little love, and the interior was stripped, but at least we got the tranny, clutch and pressure plate, motor mounts, and a bunch of extra parts. Bought it 4th of July. Now, that's the way to spend Independence Day!!
FRONT PAGE
Updated Wednesday, July 7, 1999